Reading Time:
2
minutes
Glowing tributes were paid to Chandra Shekhar Azad on his 87th martyrdom anniversary. Protests were also voiced against imperialist and fascist forces. Here's a report, for Different Truths.
Naujavan Bharat Sabha (NBS) observed the 87th martyrdom anniversary of the nationalist revolutionary, Chandra Shekhar Azad on Tuesday (Feb 27) by holding a seminar on rising unemployment and patriotism at Vikas Khand Jasra hall, Bara Allahabad, stated a media release.
The programme started with slogans hailing Azad's martyrdom and "Down with imperialism", "No to MNCs", "Raise MNREGA wages to 500 per day", "Develop irrigation, safeguard agriculture, distribute land to poor, modernize village life", "Develop industries to serve peoples' needs, not MNC industries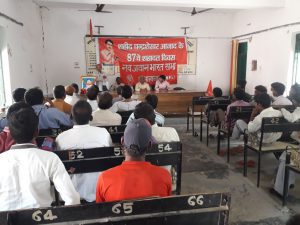 which export profits", "Build rooftop solar power, ban coal TPPs", "Stop Displacement", "Implement uniform education, take over private schools, colleges" etc.
Remembering Azad's contribution to the freedom movement the speakers emphasised that at a young age he devoted his life to the service of freedom for people of his country, built Hindustan Socialist Republican Army and clearly set an example of building armed resistance to British rule, it was reiterated.
Addressing the gathering Pawan Yadav said that while Modi government had promised 1 crore in 5 years, in the first 2.5 years its rule only 6,41,000 job has been created most of which are of casual labour. He said that in 2004 eight core sector industries employed 12.56 lacs regular workers but 2016 these had come down to only 1.22 lacs. Last year only 1% of Indians earned 73% of the total income.
Rajesh Kol stressed on government granting stone quarry leases to workers and buying the gravel.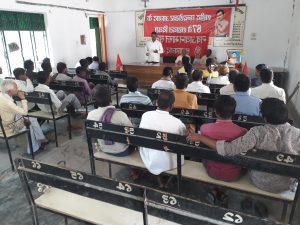 The program was conducted by Com. Bheem Lal, who gave a background Azad's struggle and criticised the pro-corporate policy of currency note ban and GST, which has ruined small production and employment on a large scale.
The meeting was presided over by AIKMS district president Com Ram Kailash Kushwaha and also addressed by Munna, Vikas, Vishnu, Lakhan Pratapgarhi and others, the release informed.
©DTNS
Photos by NBS
#ChandrashekarAzad #Patriot #FreedomFighter #Matyr #Indian #Tribute #PressRelease #DTNS #DifferentTruths