Reading Time:
4
minutes
The trials and tribulations of staying far away from homeland are many. Our Managing Editor, Anumita, shares the grief of losing one of her Mas (mothers). Here's her soulful tribute to all her Mas and her departed Mejoma, as Mother's Day Special, exclusively for Different Truths.
Last week, my call lasted for 10 minutes and during that time the only thing that I could remember was, "I am failing to save her, one never knows what pain is until he or she is losing their mother." I could barely breathe, my voice was more hiccups, a mix of audible sounds and agonising words. My cousins on the other side of the globe were leaving the hospital after visiting their Ma and my Mejoma, also called Mai by most of us (my middle paternal aunt).
I was fortunate to live around the world when Baba decided it was our time to live with our joint family in the mofussil/suburbs of Kolkata. Batanagar, a small township built around the famous Bata factory, was our ancestral home.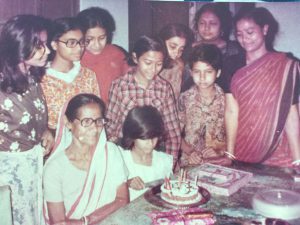 During my teen years, we were 14 members at home, a household of the female majority. A home ruled by mothers. All were Mas,  Thakuma(grandma),   Boroma (elder mother), Mai/Mejoma (middle mother) and my Ma (mother). Each of the three families had two daughters and that made us half a dozen sisters – cousins was an alien concept, we were siblings from three mothers.
A synchronised chaos ruled the Chatterjee's. Life had its quarrels, its laughter, and its challenges. It always came down to the Mas and the Babas (fathers), who supported us through thick and thin. There was a subtle change of mothering amongst three mothers, without stepping on the each other's toes. The roles were not very well defined but was easily modified according to the situation at home.
Thakuma was the ever-indulgent and biggest cheerleader of our cause, however silly it was. Boroma was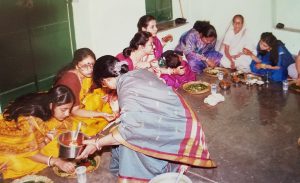 our leader in most of the fun-filled endeavors that we sisters undertook. Often that included a lot of noise and craziness. Mejoma was the best cook. She could make us the best Mughlai paratha in this world. And my Ma – the woman who taught me to stand up for what I am.
Many years past, I got married and gained another mother.
My mother-in-law. She gave me the gift of higher education. A staunch supporter of being independent, while taking care of family, she made sure that I completed my post-graduation even after my marriage.
Then I had my first child. A cherished soul and the pain and happiness of motherhood started to sink in. I learned how a small life could change my perspectives and my life.
After moving to the US, I had my second child. Days passed into years. The season changed and few gray hairs crept into my tresses.
Thakuma left us when I was living in the USA. It was a sorrow which I could not understand so well. My parents were in Kolkata and performed the last rites. I never really understood the depth of pain, although I remember crying bitterly. The Matriarch of the family had left.
Every visit I made across the globe to visit my family in India was filled with apprehension. As with the passage of time, I noticed that age was creeping into the bodies of my Mas. They were feebler and more lines crisscrossed their faces.
On my journey back to the US, I used to console my heart amongst tears that they were strong and they will be there for me on my next visit.
This year I was wrong. I will not see my Mejoma again. When I called my Ma, her voice cracked and could hear her weep. She said, "We were six elderlies in this house after all you sisters left, now we are one less…"
Rest in Peace, Mejoma. 
Now, we have one less Ma.
One less Ma for all of us sisters, this Mother's Day…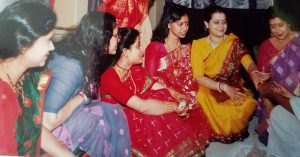 ©Anumita Chatterjee Roy
Photos by the author
#Ma #Mothers #KindOfMothers #FamilyOfMothers #HappyMothersDay #MothersDay #GrowingUpWithMothers #LosingAMother #Life #Memories #DifferentTruths