Reading Time:
4
minutes
These days if a student secures 70% marks, s/he is sad. It like bad second division in our times. Arindam reminisces about examinations during his time. Here he recounts real-life incidents in examination centres which was akin to the theatre of the absurd. Here's the first part of his article, exclusively for Different Truths.
Arre yaar, batawa 'phar' ka spellingwa ka hai? (What's the spelling of 'phar'?)
A student, big enough to be an 'uncle' had asked me a spelling. Both of us were writing the first paper for our High School examination. The year was 1974. He kept on repeating this silly question and was disturbing me. I replied, 'far'. He promptly corrected me, 'Nahi dur wala nahi, dusarka wala batawa' (No not the one that indicates distance, tell me the other one). Suppressing a giggle, I said, 'for'. He was happy. So was I. At least for that day.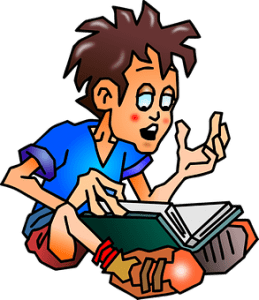 The examination centre was a Hindi medium school, not far from my home. Our school authorities had told us that we should be in our school uniform. Every other student knew that we were from St. Josephs' Collegiate. There was no escape for us.
On another day, in our examination hall (read classroom), a student seated at the far end of the room decided to tease the 'flying squad' that had come for sudden checking to ensure that no one was 'cheating'. This chap showed the flying squad a piece of paper, 'Awa, pakar k dekhawa?' (Come, catch me if you can?). One of the highly charged members of the squad was stung. He rushed to nab the culprit like a bull in a china shop. He ran diagonally, trampling, falling and jumping over the lap of one of the students, boot at all. Suddenly, we heard a shrill cry, 'Hamar goli phor dalish, baap re!' (He squashed my balls, O Daddy!)
The examination hall had turned into a circus. Students were yelling, laughing, shouting, cheering, and jeering with the person leading the flying squad trying his best to tame a roomful of jumping monkeys.
By the time, the person charging like a bull reached to nab the cheater, he quickly threw the paper, which he had rolled by then into a small ball, into the open inkpot on his writing desk. But, the member of the flying squad was so charged up that he emptied the inkpot on his left palm to salvage the piece of evidence. He spilled ink on his hands and dress, while most of it fell on the answer sheet and desk of the 'cheater'.  
This student was furious. So were others in the room. All students gathered and were ready to bash up the person who ran over and trampled them, creating utter nuisance. The flying squad perhaps wished that they had wings to fly away. A compromise was arrived at. The person whose answer sheet had been smeared with ink, was allowed to sit in another room and wr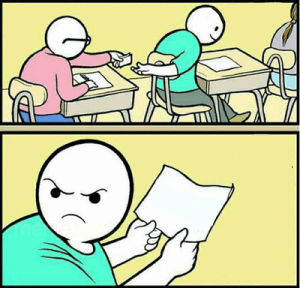 ite his paper for another three hours. All of us were allowed sufficient grace time.
The hot-headed member of the team was severely chided. The entire flying squad flapped their wings and flew far away from the examination centre. Most of us were smiling at this 'victory'.
Needless to say that the crafty student, teasing the squad, was the hero that day. He had saved the centre where cheating was rampant. He was allowed 'special privilege' for the entire period of the examination. This was what we were told though it could not be verified.
Two years later, we were appearing for our intermediate examination in another Hindi medium school. A neighbour of mine was one of the invigilators. He was friendly and helpful. He told the students that if the flying squad was to come – we were on the first floor – everyone were to handover the chits to him. No one could check him. I was aghast!
Suddenly, I saw him running through the room and students were handing over their chits to him, which he stuffed in both his pockets and into his tucked shirt – just like women keep money in their blouse. The flying squad came and left. The real commotion began when students had to pick-up their chits from the huge heap emptied on the table.
When I recounted what had happened at home, elders told me that he was a worthless student himself and cleared each class after several attempts. No wonder he understood the agony of students!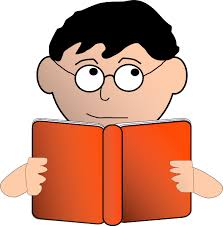 We had a neighbour, Padhaku Bhaiya (name concealed). He was a bookworm. He studied for hours all year round but failed to pass examinations. He had been appearing for his intermediate examination for the sixth year when we were in High School. I asked him what his subjects were that year. He said, 'Murtikala, tankarh (sculpting, typewriting), bookbinding, Hindi and English.' English was his Waterloo.
He flunked that year too. For a few years, Padhaku Bhaiya had vanished. He was sent to his ancestral village in west UP. Later, we heard that he had secured first division marks.
The good thing about Padhaku Bhaiya was that he was very honest – to the point of being naïve. When I met him many years later and asked him how he got such good marks, he revealed a shocking truth.
He informed that cheating in the examination was like a cottage industry in many village schools. It had several 'classes' as in train journey.'Chalu' (General) cost Rs. 20/- per paper. The chit was students' and they wrote the paper, undisturbed. For 'First Class', costing Rs. 50/- per paper, books were allowed. The best was 'Deluxe', it was Rs 1000/- per paper. Teachers of that subject answered on behalf of the students. He, however, had opted for the second best, 'Special'. Teachers prompted the answers that students wrote. This was for Rs. 750/- per paper. These were the rates in the late 1970s. It must have shot up many times, now.
Padhaku Bhaiya managed a job of a constable in the UP police. Education, to him, like many others, was – and is – a business, where fair is foul and foul is fair.
(To be continued)
©Arindam Roy
Photos from the Internet
#CoverStory #Education #EducationOrFarce #Late1970s #DifferentTruths