Reading Time:
6
minutes
Anshu is a world record holder to have scaled Mt. Everest five times. The first Indian woman, she is rightly called the 'Queen of the Everest'. She is also an acclaimed actress and celebrated model. Lovita profiles the young achiever, on the first anniversary of record holding feat, exclusively for Different Truths.
Tsering Wange exchanged his dreams and interests. It was not for himself but for Anshu Jamsenpa, his wife. He wanted to see her as an actress as well. I am a documentary filmmaker and to further my subjects ranging mostly from anthropological to folklores and folktales, my films hardly opted for or demanded an angelic or glamourous face. Anshu had that. But, she successfully proved her skill in the National Award winning film, Crossing the Bridge. She also walked the ramps of the best fashion shows.
Anshu is a world record holder to have scaled Mt. Everest five times. The first Indian woman, she is rightly called the 'Queen of the Everest'. It's a bliss to have known a resolute and a gifted woman with nerves of iron and sinews of steel for a decade, now.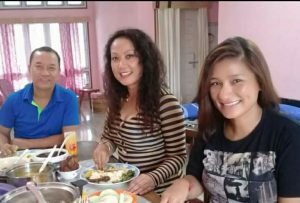 About a year back, on May 22, 2017, Tsering was at my home. We had tea and a good lunch. I asked him about his wife, Anshu. "Everybody is asking the same thing. I myself don't know where she is," he laughed light-heartedly.
She had already made a world record. But to return within five days of conquering the Mt. Everest was mind-boggling.
She was talked about and celebrated by international and national media. Right from BBC to Times Now to Republic, and NDTV to regional satellite television to local newspapers, Arunachal Times, Assam Tribune, Eastern Sentinel to hundreds of publishing media houses flashed and celebrated Anshu Jamsenpa's success. She was the celebrated, 'Queen of Everest'.
After a couple of days, I got an invitation from the celebrated couple Anshu and Tsering. And over a good cup of tea and beautifully laid lunch, I almost felt breathing the air from the Everest, sitting next to her.
After hours of talk, plot by plot, scene by scene, blow by blow, she unveiled the excruciating arduous task of years of hard work that moulded into this momentous experience. She inspired me to scale the Mt. Everest sometime soon.
"I climbed the Everest. I took it seriously. So heady is the spirit of the success to climb the Everest, the world's highest peak, that I scaled it not once but five times," she confessed.
"Anshu used to make tea for the trainees. I failed to understand how come she gathered the strength to dream this big," said Tsering.
It was the first step, the daring thought to challenge herself.
The Queen of Everest is the pride of not only Northeast India:  Arunachal Pradesh but conspicuously of
the world too. It's an inspiration to men, women, children, and an entire the generation.
Mountaineer Anshu is also the world's first woman to scale Mt. Everest twice in five days. She is the only woman to complete second double ascent within such a short span. And the fastest double ascent by any woman.
Her ascent of the world's tallest peak in the Himalayas at 7.45 am on Sunday was her fifth overall, and the second after May 16 last year.
The 37-year-old mother of two had started her fifth ascent on May 19, climbing almost non-stop from Everest Base Camp at 17,500ft.
Anshu's husband and president of All-Arunachal Pradesh Mountaineering and Adventure Sports Association, Tsering, is a believer of God. He rued, "It's the blessings and love of all well-wishers affirm that God has answered the prayers and good wishes of her admirers in Arunachal Pradesh and elsewhere in India and beyond."
Bomdila, the headquarters of West Kameng district of Arunachal Pradesh, with its enchanting landscape, fresh air, sparkling water, its hard rocks, and mountains ought to have spirited Anshu. Here's my poem saluting her.
Anshu, Are You Emily Dickinson's Himmaleh?
Anshu, are you Emily Dickinson's Himmaleh
The great poetess said she could sense
Himalaya that stooped unto daisy low,
She would have said, Jamsenpa jumped
The tallest mountain of Himmaleh in the world
Returned to us from half a mile to sky,
And got Himmaleh daisies;
Birds might dread to fly these heights highest,
Frozen feather could have been burnt in coldest.
Anshu Jamsenpa, your loved one
Wange waging and wading through
The mountain winds serenade,
"You are the bravest"
In love, you conquer the world,
Brave ought to be the love
Bravery in fingertip points at the abode of snow,
Mountains do meltdown in love.
In the fragrance of daisy may be Rhododendrons.
But Emily Dickinson's "Himmaleh"
Stoop unto daisy low
In the fragrance of daisy….
Anshu, are you the Emily Dickinson's Himmaleh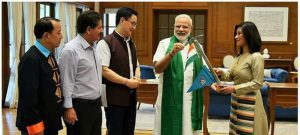 Anshu scaled the Mount Everest twice in May 2011 and again scaled the peak on May 18 in 2013. She started the summit expedition after 38 days of acclimatisation at the Everest Base Camp from April 4 to May 12.
"The good news is that she is absolutely well and fine and shall attempt a double expedition," her spokesperson had said.
Anshu spoke to officials at the Everest Base Camp and in Kathmandu over a satellite phone from the world's tallest peak after unfurling the tricolour and clicking testimonial photos. Her health is stated to be perfectly fine and she is descending now to the base camp.
She acknowledged the support extended by State Bank of India, North Eastern Council, Numaligarh Refinery Limited, North Eastern Electric Power Corporation, Arunachal Pradesh government and all her previous associates for her success.
Here are the voices that celebrated her rare feat:
Anshu Jamsenpa, 37, returned from the 8,848-metre (29,028-feet) peak on 16 May, before turning around after a short rest to repeat the feat.
"Anshu reached the summit of Everest at 8 am on Sunday for the second time this season, setting a new record," said Dawa Lama of Dream Himalaya Adventures.
The earlier record, certified by Guinness World Records, is held by Nepali female climber Chhurim Sherpa, who, in 2012 become the first woman to scale the peak twice in a season. Anshu Jamsenpa is the only woman who has climbed Mt. Everest five times.
She intended to make the summit in 2014 but the climbing season was cancelled after an avalanche killed 16 Nepali guides.
Another attempt the following year was foiled after an avalanche — this one triggered by a massive earthquake that left swathes of Nepal in ruins — killed 18 people at Base Camp.
"Did you cry?" It was my question to her. I added, "On top of the world's highest peak, Mount Everest of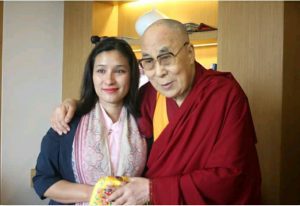 8,848mtr, didn't you felt lonely and lost, leaving behind two children with husband," She smiled and said, "I started at 1.45 am on May 13 for the great climb and reaching on the Everest top at 9 am. A single drop of tear shed at that height could sap the energy. And the energy on the top of the world is very essential." Her reply made me unveil another dimension of her immense capacity. It's limitedness in un-limitedness.
She showed me a photo clicked on top of the Everest. Her sunburnt face bore the imprints of the Blitzer and strong winds. Despite the pain, she smiled.
"To unfurl the National flag on top of the Mount Everest was a sheer and instant joy that she felt then and there. And, yes, to climb down, I needed the same amount of blessings and energy within," said Anshu.
And, the Queen of Everest was truly blessed. But, the blessings from the peacekeeper, the Tibetan spiritual leader, the Dalai Lama, on April 2, 2017, was special. He flagged off the mountaineer's double ascent expedition from Guwahati. It was power blessings.
©Lovita JR Morang
Photos and video clip sourced from the author
#QueenOfEverest #DalaiLama #Priminister #Tibet #Nepal #GuinnessWorldRecords #AnshuJamsenpa #WomenOnEverest #YoungAchievers #DifferentTruths