Reading Time:
20
minutes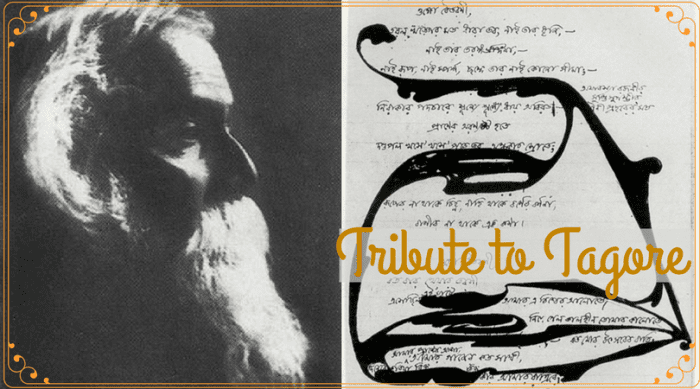 Rabindranath Tagore's art combines both Indian and European aspects. The range of colours used in his work are reminiscent of the expressionist era, and Tagore's style is close to that of Kandinsky, Picasso, and Matisse. It is also influenced by Japanese and Chinese art. It also documents what prominent art historians and critics said about Bard's work. Dr. Nachiketa, in this research paper, examines Tagore's paintings and its place in the history of art, as Special Feature, exclusively for Different Truths. 
"Poetry and painting come from the same human spirit, and it is natural that the spirit and inner technique of both should be the same. The painter shows the same impression, the same method of suggestion, the same emphasis on an indefinable atmosphere, the same fantastic union with nature, which characterise Chinese poetry. For the poetic mood and picturesque moment are often the same, and the artist's mind which can seize the one and give it form in poetry, can also, with a little cultivation, express the other in painting." ~ Lin-Yu-Tang
In honor of the 150th anniversary of the birth of Rabindranath Tagore (1861-1941), the Embassy of India in the Czech Republic had arranged an exhibition (16.10.12-10.11.12) of his paintings and sketches. Karolinum vystavuje obrazy nobelisty Rabíndranátha Thákura, 16. 10. 2012. The web circulation introduced the great as follows:
"His art, which is not widely known in the Czech Republic, has been accessible to the public… Tagore's art combines both Indian and European aspects. The range of colours used in his work are reminiscent of the expressionist era, and Tagore's style is close to that of Kandinsky, Picasso, and Matisse. It is also influenced by Japanese and Chinese art" and some other exhibitions held in Ontario, Kualalampur, Rome during 2012 London, New York, Paris (2011), Srilanka (1961), Rome(1959), Paris (1946, 49)[1]. Reviews were appreciable. [2][3] 
After 88 years of Tagore's exhibition of paintings, The Last Harvest (1930) in Paris how far his contribution is contextual in modern art history is here reviewed. 
Art and Science
Lesar (2015) [4] in her paper cited the view of Tagore on his personal opinion of comparative philosophy of art and science in seminal work on Personality. [5]
"I shall not define Art," Tagore said, "but question myself about the reason of its existence, and try to find out whether it owes its origin to some social purpose, or to the need of catering for our aesthetic enjoyment, or whether it has come out of some impulse of expression, which is the impulse of our being itself."[6] At the same time his interpretation of the world of science, "The world of science is not a world of reality, it is an abstract world of force. We can use it with the help of our intellect but cannot realise it with the help of our personality. It is like a swarm of mechanics who, though producing things for ourselves as personal beings, are mere shadows to us. But there is another world which is real to us. We see it, feel it; we deal with it with all our emotions. Its mystery is endless because we cannot analyse it or measure it. We can but say, 'Here you are' [7]  and "our scientific world is our world of reasoning. It has its greatness and uses and attractions. We are ready to pay the homage due to it. But when it claims to have discovered the real world for us and laughs at the worlds of all simpleminded men, then we must say it is like a general grown intoxicated of his power, usurping the throne of his king. The reality of the world belongs to the personality of man and not to reasoning, which is useful and great but which is not the man himself," pined Tagore. He further reiterated, "Science does it by eliminating from its field of research the personality of creation and fixing its attention only upon the medium of creation." [8] 
Questioned further whether the central goal of the arts is the production of beauty. "As a consequence of this, we have often heard it argued whether manner, rather than matter, is the essential element in art. Such arguments become endless, like pouring water into a vessel whose bottom has been taken away. These discussions owe their origin to the idea that beauty is the object of art, and, because mere matter cannot have the property of beauty, it becomes a question whether manner is not the principal factor in art. But the truth is, analytical treatment will not help us in discovering what the vital point in art is. For the true principle of art is the principle of unity, which cannot be analysed." [9]
Citing similar conclusion justifying Art by M. Forrest (2011) [10], who, in her reflections in Justifying the Arts: The Value of Illuminating Failures, writes: "The ineffable quality of engagement that one experiences with a work of art defy causal forms of explanation. It provokes something that is unutterable yet must be uttered and accepted. The work of art provokes formative paradox. Though we may offer causal explanations, they do not touch that which is characteristic of art; that which provokes us to offer 'peculiar kinds of comparisons' and the 'grouping together of certain cases'."  In order to understand the personal view of Tagore on real-world aesthetic and its philosophy quotations were cited. This philosophy and his view lead modernism as an aesthetic movement. Modernity needs socio-political context. Modernism is influenced by the modernist. In search of the status of his painting genius, the then period should be reinvestigated.
The Emergence of Art in Colonial India
An unprecedented  resistance emerged through nationalism in order to preserve ancient traditional art and aesthetics including form in various branches of fine arts and to create distinct imprint at per with oriental concept, headed by  "Bengal School" of painting as led by Abanindranath Tagore(1920) against intruded European school of art or conflict of nationalism versus westernisation what already started to regenerate national identity in every sphere leading to getting read of colonial rule. Consequent upon the School of Industrial Art (1864)  establishment the Government School of Art(1865) was  raised wherein 1896, the English art historian and teacher Ernest Benfield Havell became the Superintendent of the Government School of Art, in Calcutta, after holding the same position at the Madras School of Art since 1886 having confidence in Indian and Oriental art tradition aiming at  reforming and Indianising the Fine Arts, design and applied arts, and traditional  decorative arts.  As an educator, as an ideologue  He took care of Mughal miniature painting, Ajanta murals, reproductions of Byzantine and early pre-Renaissance Italian art for  Indian "fine arts" tradition, and pre-renaissance European art. In this backdrop, Abanindranath Tagore emerged as an indi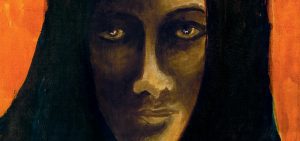 genous painter in the period of cultural nationalism when a westernising period is over leading to historical Bengal school concept. His discourse based on ideological nationalistic and contemporary modern art of the time popularised by Prabasi and The Modern Review, appearing indulged by three principle Orientalists: E. B. Havell, Ananda Coomaraswamy, and Sister Nivedita.
This aforesaid account of Cohen, Jasmin(2012)[11] was reflected in The Modern Review when it runs "The Function of Art in Shaping Nationality," in The Modern Review, Sister Nivedita wrote on the painting of A. N. Tagore: "But how can a man be a painter of Nationality? Can an abstract idea be given form and clothed with flesh and painted? Undoubtedly it can. Indeed, if we had questioned this, Mr. A. N. Tagore's exquisite picture of 'Bharat Mata' would have proved its possibility." The Bengal School propagated the art movement with Nandalal Bose and Surendranath Gangoly, Asit Kumar Haldar, Kshitindranath Majumdar, Sailendranath Dey, Samarendranath Gupta, Surendranath Kar, Sarada Charan Ukil, and K. Venkattapa, mentored by Abanindranath.
The Swadeshi Movement  in Bengal was complicated in nature  countering to British colonialism, The Swadeshi Movement in Bengal, 1903-1908, Sumit Sarkar[12] cited by Cohen (2012) identifies a continuum on which any one actor or group in the movement among  moderates, extremist, and mendicants advocate according to their way of movement except  discourse of  "constructive swadeshi," mainly advocated by Rabindranath Tagore, proponent of self-development of Indian society isolating  the British by inbuilt "self-help" notion retaining no-conflict politically aiming to reconstruct modern India.
Sarkar (2013)[13] authored that  Tagore's  ideology was grounded in the conception of distinctly Indian identity based on the model of Armenian nationalists in Russia, a model of resistance that served as an alternative to more extreme expressions of Swadeshi. Tagore radically wished to reject the idea of the nation-state as a whole, detagged from the label of "nationalist." Indeed, Tagore was not a nationalist in the way Sister Nivedita or E. B. Havell was.
The Mission of Kala Bhavana
Citing Sivakumar (1997)[14], Cohen(2012) reiterated, on the set of establishment of Kala Bhavana of Santiniketan, Tagore wrote a letter to Abanindranath, "The seed you have sown in this country, it is my wish that it might germinate, become lasting and belong to this country forever…Since it did not take its roots in Calcutta, I have started work here, and signs of success are also visible." It revealed that ideologically he was at par with Abanindra, where Abanindranath's disciple Nandalal Bose joined as acting principal, following view of Tagore that the art students should have cosmopolitan standpoint "in allowing themselves to borrow from other cultures, while always remaining rooted in the own specific experiences, so as not to wipe out differences between cultures and to remain true to one's own personality.  Kala Bhavana may be seen as the final culmination of the modern expression of Indian art that was kick-started by the Bengal School. That is at least how Rabindranath saw it."
Mallik (2010) [15] opined, "In a period when nationalist revivalism was triumphant in the country, he had the strength of will to propose a larger vision beyond the restrictive criteria of national/ geographical boundaries in matters of creative expression. In fact, it is tempting to view Rabindranath's pictorial practice against the phrase that assumed the role of a guiding motto for Visva-Bharati, the university he instituted: yatra vis´va bhavati Eka nidam – where the whole world comes to meet as in a single nest. This catholicity distinguished Rabindranath's creative process, and his approach to the notion of tradition was thereby liberated. Coupled with this, his European tours had probably contributed considerably to make the art of those lands a directly felt experience." 
Modernity in Indian art is the outcome of Westernisation specifically under British rule with an introduction of European art schoolings, institutions, exhibitions, reproduction techniques and aesthetics concept along with education policy, science policy and economic policy of the nineteenth century. Resistance against this schooling has been discussed. On the set of Independence that movement dissolved. An artistic expression now entered into Global aesthetic modernism facing political, economic and social implications of the newly emerged nation.
After intellectual battle fought by Rabindranath, Jamini Roy and prominent other remaining in the camp of Western avant-garde critics idolised rural pro-environment life, war, famine, peasant rebellions and political unrest intermingling global local narratives attended cosmopolitan modernity. What Mitter (2007) [16] said "the encounters of the colonial intelligentsia with modernity were inflected through virtual cosmopolitanism. One of the products of such encounters was global primitivism and the common front made against urban industrial capitalism and the ideology of progress."
The Avant-Garde Movement: 1930s
A report from unpublished Theses of Banu Shelina Runa (2009) [17] highlighted that during 20s-30s it was the time when Cubism, futurism, expressionism, and surrealism dominated Europe. Bengal school movement started dwindling during 20s-30s.The Bauhaus painting exhibition in 1922 throws the new inspiration to our artist.  Representation of Gagendranath Tagore, Jamini Roy and Rabindranath Tagore, then Amrita Sher-Gul', acted as brighter exponents. The decades of the 20s and 30s witnessed the twilight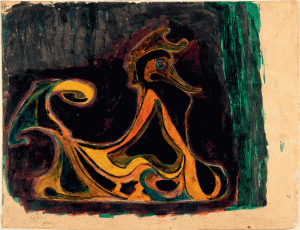 era between modernism and era of naturalist art claiming each other's superiority. Modernism wind intruded in India in December 1922, as the Avant Grade German Expressionist Art by the Bauhaus artists' commissioned exhibition at the Samavaya Mansion Hall in Calcutta. It is suggested that Rabindranath Tagore who had contact with European art earlier through recurrent travels get inspired by German Expressionism and having self-taught creative insight of his art an incredible power producing thousands of works in the course of twenty year period which was exhibited widely in Europe during his lifetime, the course of   individualistic Art of the 1920s-1930s thus took place.
Government Art School student, during the 30s, formed an artist cooperative leaving Government institution causing a movement against the autocratic attitude of its administration resulting out an art movement revealing resistance. Union of artist formed artists union (1931), commune living, outdoor study leading to the Art Rebel Center in 1933 arranged even exhibition whose catalog declared. "Our aim is to create an art that is strong, bold, virile and anti-sentimental, fearless in its desires for new adventures, a powerful avant-garde, which can save art in India by traditional conservatism and the habitual indifference of the public." On the other hand, another side in same period Tagore was on unique creativity as Runa S, Banu authored in her theses as follows: "Tagore, an important artist in this regard, was inspired to begin painting in the way he did by non-Indian influences from both the Far East and the West, even critics denied him as an artistic connection with Indian art …. There is hardly anything of the orient in it…it belongs at the same time to Bengal, India or Asia, it does so in the same that many of the spiritual and material products of Euro America have been consciously or unconsciously Banga-vicised, Indianised or Orientalised for the purpose of Asia by the Oriental makers of the modem orient…[18]
The founder of Bengal School Abanindranath surprised of his uncle as an artist is of particular interest, coming as it does from the founder of the Bengal Revival, he discussed with his conservative outlook – "(Rabindranath's) art was nothing 'new', when everyone said it was something novel I maintained my position, because I was sure of my ground. I knew that 'newness', in creation meant anarchy. And his art, whatever else it was, was not anarchical… What is strange about his art is that it only found expression in his old age… It comes out like a volcanic eruption… Its very force shaped its course."[19]
Wyma Kathleen Lynne(2007)[20] illustrated this very contemporary period of India while discussing discourse and practice of radicalism (60-90) I could not resist myself to quote her citing:
"Art now is no more a human reaction of an individual to his surroundings and his commentary on life. With the internationalization of art the interest among the powers that be seems to centre around one phenomenon which has become a veritable obsession. How far have an artist's concepts advanced over the previous ones or the previous generations? How far has it broken new vistas? This seems to be the only yardstick of achievement."[21]: Sanko Chowdhury
2."Now that the old regional barriers have been crashed and the world shrunk into a global village, this competition is brisker and giddier; in the world's greatest art fairs the main problem of today's artist is to keep shouting till he gets a hearing. His next problem is to put his neighbor into the shadow by eye-catching or ear-catching or mind massaging gimmick. It also helps to shoot a thundering manifesto or weave verbal cats-cradles with sympathetic interlocutors, or commission professionals to erect glittering verbal arcades to his work."[22] K. G. Subramanyan,
3.'from its early beginnings in the vulgar naturalism of Raja Ravi Verma and the pastoral idealism of the Bengal school, down through the hybrid mannerisms resulting from the imposition of concepts evolved by successive movements in modern European art on classical, miniature and folk styles to the flight into 'abstraction' in the name of cosmopolitanism, tortured alternately by memories of a glorious past born out of a sense of futility in the face of a dynamic present and the urge to catch up with the times so as to merit recognition, modem Indian art by and large has been inhibited by the self-defeating purposiveness [sic] of its attempts at establishing an identity." [23]Group 1890 Manifesto"
4. "The crisis of the artist today is the crisis of the individual isolated from society. As the artist is able to generate a broad social understanding among the people, leading to an activation of the people against the forces of reaction, the artist himself is integrated into society in the process. When the artist fails to achieve this interaction with society, he can flounder in the hallucination of his egoism.' [24]Bijan Bhattacharya"
The aforesaid quotation was in disposable to find out how the modern contemporary artist looked back historicity.  The period of ancient glory or darkness.  Tagore witnessed the both or History witnessed Tagore.
He Emerged
In 1930, Victoria [25] met the Gurudev in Europe, the Poet was confident enough about his capabilities of visual art and helped launch his first ever exhibition of paintings and drawings at the Galerie Pigalle in Paris.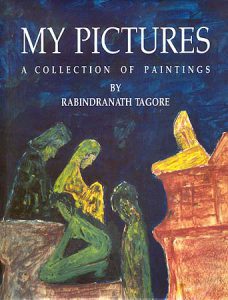 Once poet himself, in his article 'My Pictures', stated, "The world of sound is a tiny bubble in the silence of the infinite. The Universe has its only language of gesture, it talks in the voice of pictures and dance. Every object in this world proclaims in the dumb signal of lines and colours, the fact that it is not a mere logical abstraction or a mere thing of use, but it is unique in itself, it carries the miracle of its existence. In a picture, the artist creates the language of undoubted reality, and we are satisfied that we see. It may not be the representation of a beautiful woman but that of a commonplace donkey or of something that has no external credential of truth in nature but only in its own inner artistic significance." And "People often ask me about the meaning of my pictures. I remain silent even as my pictures are. It is for them to express and not to explain. They have nothing ulterior behind their own appearance for the thoughts to explore and words to describe, and that appearance carries its ultimate worth. Then they remain, otherwise, they are rejected and forgotten even though they may have some scientific truth or ethical justification. Love is kindred to art, it is inexplicable. Duty can be measured by the degree of its benefit, utility by the profit and power it may bring, but art by nothing but itself. There are other factors of life which are visitors that come and go. Art is the guest that comes and remains. The dithers may be important, but Art is inevitable."
According to specimen  album studied by Pickford and Bose(1987)[26] among 1573 paintings and sketches under the custody of Rabindra Bhavan, Santiniketan, introduces five categories –  person with redhead, mask, flower study, head study and land study –  yellow sky created during1930-37,with Gauche, pen ink ,wax pastels and pencil which made voices with lines and colours. Significant is that colour in its spatial effect, creating depth, atmosphere or structure are the main factors in Tagore's paintings. They appreciated his command on colour conferring him as original colourists.
"who made throb the coloured surface with movements as of air and light, he made it luminous or opaque, textured, structured and suggestive of the degree of depth which he needed to set off (8,22) balance(15) or flood(22) figures with indefinite spaces."[Number refers the plate no of Tagore's painting of Lalit Kala Academy, 1961]
Pickford R.W and Bose J cited  Kramrish[27] (1963) comment on Tagore's painting,   "None would have disliked more than Tagore a verbalising of the form and content of his paintings and drawings…Tagore's most powerful and original work relies on the two units of form, the drop and the angle. These linear, organising elements are filled in his paintings with color evoking a texture as if of a luminous body dappled with the darkness of its substantially."
Quoting Tagore's speech they cited as follows, "It is absolutely impossible to give a name to my pictures,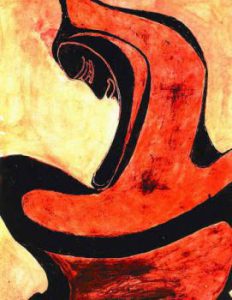 the reason being that I never make a picture of any preconceived subject. Accidentally some form, whose genealogy I am unconscious of, takes shape out of the tip of my moving pen and   stands out as an individual."
That's why Mallik(2010)[28] thought, "But even when one identifies, for instance, echoes of the expressionistic in the paintings of Rabindranath, the images in their ultimate totality of visual language are so utterly individual that they defy categorization into strait-jackets of stylistic periodisation or movements in world art. What unfolds in front of the viewer of these paintings is a narrative told exclusively through the visual language – and meant to be read so a well….Very similarly, Rabindranath's landscapes are hardly descriptive passages such that it may be nearly impossible to determine the inspiring source in actual locations. Approaching pictorial language from the vantage point of a wider horizon,"
Rani Seema (2008) [29] reported in her unpublished theses as follows.
Tagore as a painter had a pristine quality about him- something unpredicted in the history of art. Critics described Tagore's work as 'naïve' and almost childlike. Picasso had painted a lot of child art late in his life. Both are essentially cerebral painting. Mulk Raj Anand's efforts to establish Tagore as a child-artist had the merit of greater sensitivity than that of most others having mature personality inbuilt if inclined to paint. Parimoo's conclusion is possible primitive art inspiration in Tagore's painting which is not wholly convincing either, still seems the most sensible one: 'It is only out of inhibitions that some critics continue to call him a child-artist, child-like, but not childish. Dancing multitude of the imaginative pictures by Comtesse de Noailles or while Henri Bidou wrote that the hand itself animated by its own elemental spirit. Archer critics concluded Tagore's painting influenced much of that by Klee, Munch, and Picasso – in the unconscious.' Archer wrote, 'In intimate essentials, it presupposes [my emphasis] the modem theory of the unconscious, the revolutionary ideas of Freud and that re-evaluation of reason which has followed the discoveries of psychoanalysis'.
Rabindranath's work came later parallel to Klee's art, both artists concede a purely formal character to shapes and lines, yet both acknowledge that however,'abstract' a form may be, it also possesses realistic association. Intellectual awareness or recognition is liable to occur and the act of spontaneous growth is to the extent defected. In such a process the picture came first, the subject later, the title last of all, and thus, for the third time there is a remarkable coincidence in the methods of the two artists.
Nationalist art history is so live in order to restore their relevance to the people of the nation. The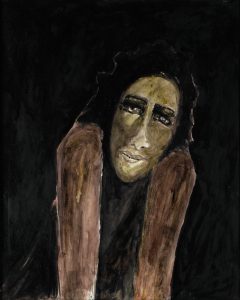 indigenous aesthetic was never defined, or theorisation is never ending process. The metaphysical discourse of Ananda Coomaraswamy, Kramrish along with Bengal School concept dominated even post independent period. The nationalist discourse of Indian Art was against colonial ruler/Western audience/in spite of resistance on behalf of native. Indian art history is never framed in a homogeneous system subject or object. Our political, economic and cultural contexts have changed in the neo-globalisation era and changes will be increased. Newer subject and objects will appear along with newer theory and epistemology. The discourse of art, when entangled with, the modernity and modernism in order to conceptualise and, historicise, through the agency of western art history, it includes  Western art historical accessories of literature social life of white, heterosexual, masculine, Christian position, global market and rule of an institution. On the other hand, the art of the recessive mass is seen reduced. Hazy modernism further bifurcated into pre and postmodernism. The interplay of capitalism and history of power, regionalism, religion, caste, class and linguistic groups further enforce impact on the process of modernisation producing hybrids modernities and local modernism. Asian Avant-Garde by Geeta Kapur, contextual modernism by Sivakumar and 'regional modernism' by Shivaji K. Panniker have already discussed these. Tagore's aesthetics never in term of utilitarian considerations. Beyond the definition of 'historicity'.  Creation of his artistic personalities is independent or intuitional of own. His autonomous art experience disapproves any central dogma irrespective of modernity or ancient. The various elements and aspects of Tagore's aesthetic theory address that art not purported. 
Reference
2012 "Karolinum vystavuje obrazy nobelisty Rabíndranátha Thákura," Czech Republic
2012 "The Last Harvest: Paintings by Rabindranath Tagore," Ontario.
2012 "An Exhibition of Original Paintings of Tagore in Kuala Lumpur,"
2012 "International Exhibition of Gurudev Tagore's paintings," Rome
2011"Rabindranath Tagore: Poet and Painter," London
2011 "Rabindranath Tagore: The Last Harvest," Asia Society, New York
2011 "La Derniere Moisson," Petit Palais, Paris
2010 "The Master's Strokes: Art of Rabindranath Tagore," National Gallery of Modern Arts, New Delhi
1961 Solo Exhibition, Colombo Art Gallery, Sri Lanka
1959 Rome -New York Art Foundation, Rome.
1946 International Exhibition of Modern Art, Paris
1946 International Exhibition of Modern Art, Paris
(ArtNews http://www.artnewsnviews.com/view-article.php?article=women-in-rabindranath-tagore-s-paintings&iid=35&articleid=1051)
Umaprakash(2012) reviewed in Art News on women in Rabindranath's painting
"Kadambari seemed to be present in Tagore's paintings. He has felt her presence even in his Landscapes: …Apparently, till his death, Tagore felt the presence of Kadambari Devi's spirit around him which even prompted him to write a song…..On the faces of Untitled featuring a man and woman a languid sexuality pervades. The painter portrays a western beauty which could have been Victoria… Tagore's Veiled Woman and his Tableau of Shrouded Women with their backs have a mysterious appeal: the private world of Indian women is peeped at but not revealed. Tagore reflects the attitudes towards women of his times although he himself was a part of reform movements that propagated social reform, education for women and widow's remarriage. In another untitled piece the light from the tiny window that enters the home of the woman summed up the limitations of the freedom of women of that era.
(ArtNews: //www.artnewsnviews.com/view-article.php?article=women-in-rabindranath-tagore-s-paintings&iid=35&articleid=1051)
"It is impossible to apply the ordinary standards of art criticism to the drawings by Rabindranath Tagore on the exhibition at the Birmingham City Art Gallery. Their classification according to the date of their production – the whole falls within the last three years – is a sufficient indication of the fact that they are intended to be regarded as evidence of the evolution of the poet's mind, as a new means of self-expression, rather than as a progressive development of technique."
"… Some of these (paintings) are of astounding Power, their very deep tones and wonderfully harmonious sequence produce exactly the same effect of rhythm as   that which is to be observed in purely linear work, and we might sum up the whole of this exhibition as being a marvelous example of the sense of balance and of harmony, even in the most fortuitous of its forms." – Kainer Smith in 'The Birmingham Mail'
The report on Tagore's painting exhibition at Charlottenburg in 1930 states – "The impression one gets when one today is passing through the galleries at Charlottenburg where Tagore's pictures are exhibited is something out of the ordinary.
The Indian poet draws more than he paints. He uses ink, Indian ink, and watercolours, and he has developed a special technique. He uses the pen normally and with the back side and also his fingers. Only recently has this poet-thinker ventured to enter into the field of painting. He thinks himself that he has reached the rhythm of the lines through the rhythm of thoughts and music. And he says, "My pictures are verses in lines and also his fingers. Only recently has this poet-thinker venture to enter into the field of painting. He thinks himself that he has reached the rhythm of the lines through the rhythm of thoughts and music. And he says, "My pictures are verses in lines."
"… In this exhibition, there are elements which remind us about things from Egyptian monuments, from Modern Greek Graphic art, from Japanese woodcuts, from English watercolour paintings, and from primitive decorative art. There are elements which possess certain likenesses to the antique orient and elements which remind us about the Scandinavian Drake style and the Gaugin Exotism."
The Muenchener Telegram, Zeitung wrote on 23.07.30 – "The poet calls his paintings 'Verses in Line'. He also announces that for him the rhythmic form is the important one. Looked at from these points of view, the spectator experiences a feeling of contact in these paintings which are most interesting in that they venture along the road of modern European aspiration.
The German paper, The Muenchener Telegram, Zeitung wrote on 23.07.30 – "The poet calls his paintings 'Verses in Line'. He also announces that for him the rhythmic form is the important one. Looked at from these points of view, the spectator experiences a feeling of contact in these paintings, which are most interesting in that they venture along the road of modern European aspirations.
On Tagore's paintings, Ananda K Coomaraswamy, who was then at the Museum of Fine Arts, Boston wrote – "An exhibition of drawings by Rabindranath Tagore is of particular interest because it puts before us, almost for the first time, genuine examples of modern primitive art. One may well wonder how those artists and  critics who have so long striven for and praised the more calculated primitivisms, archaisms, and pseudo-barbarisms of European origin will respond; will they admire the real thing?"
Stella Kramirisch wrote, 'Training of the hand is one thing, guidance by the spirit another. The work of Rabindranath Tagore, singularly free from conventions and schooling, is subject to a discipline of its own. It does not stop short at design and composition. Each of the hundreds of drawings and paintings is a living and balanced artistic organism. But it is so thorough that it even discovers motives of its own and invents a suitable technique that in its simplicity affords possibilities hitherto unsuspected by professional artists.
http://www.easternpanorama.in/index.php/web-special/61-2010/september/1136-reflection-on- paintings-of-rabindranath-tagore
Lesar Irena; The Role of the Arts in Tagore's Concept of Schooling, c

e ps

Journal | Vol.5 | No. 3 |

Year

2015

5. Tagore, The Personality. New York: Macmillan Company.1917)

Ibid, p. – 16)

Ibid, p. 12)

Ibid pp. 70, 72

Ibid pp – 30, 31

Forrest, M. (2011). Justifying the Arts: The Value of Illuminating Failures. Journal of Philosophy of Education, 45(1), 69.

Cohen, Jasmin, "Nationalism and Painting in Colonial Bengal"(2012). Independent Study Project (ISP) Collection. Paper 1646.
     11. http://digitalcollections.sit.edu/isp_collection/1646
Sarkar Sumit, The Swadeshi Movement in Bengal, 1903-1908, (New Delhi: People's Publishing House, 1973), 61.

Ibid

Siva Kumar R., Santiniketan: The Making of a Contextual Modernism, (New Delhi: National Gallery of Modern Art, 1997)

Sanjoy Kumar Mallik, Rabindranath Tagore as a painter, Indian Perspective vol-24, No-2, 2010

Mitter Partha, "The triumph of Modernism India's artist and the avant-garde, 1922-1947, London, 2007

Banu Runa Shelina, A Critical Study of the Progressive Art Movement in Bengal, Unpublished Theses, Aligarh Muslim University 2009

Ibid, pp – 242

Ibid

, pp-242

Wyma Kathleen Lynne, The discourse and practice of radicalism in contemporary Indian Art 1960-1990 by The  University Of British  Columbia June 2007

Sanko Chaudhuri, "Technology in Art," Fine Arts College Alumni Get-Together Souvenir, 1971 (Baroda: Maharaja Sayajirao University, 1971): np

G. Subramanyan, "The Struggle for Image in Contemporary Indian Art," Fine Arts College Alumni Get-Together Souvenir, 1971 (Baroda: Maharaja Sayajirao University, 1971)

Bijan Bhattacharya, "Artist and the Social Responsibility," The Great Confrontation, Vol. II, No. l (May-June 1978): 18

"In 1930, Victoria met the Gurudev in Europe and helped launch his first ever exhibition of paintings and drawings at the Galerie Pigalle in Paris. She went there with her personal staff, as she always did. Her maid, Fani, who brought up Victoria as a child, attended fondly to Tagore. Victoria saw Tagore for the last time at the Gare du Nord in Paris that year, when she bade him farewell. They continued to correspond until his death 11 years later in 1941. The sketches and paintings that Tagore continued to create emerged from the tormented soul of a many-sided genius, whose quest for the truth found such a deep reflection in his own life. His work as a visual artist is replete with dark colours and grim figures. The chair that Victoria gave him in 1925 inspired not only poetry but also his painting." Moni Chada, Occasional Publication 70, Salute to a Great Lady: Victoria Ocampo Indian International Centre 40, Max Muller Marg, New Delhi

Pickford R.W, and Bose J, colour vision and aesthetic problems in the picture by Rabindranath Thakur, British Journal of Aesthetics, Vol 27, No. 1, winter 1987

Kramrish, Stella (1963) in Lalit Kala Contemporary number to published, Lalit Kala Academy Delhi

Sanjoy Kumar Mallik, Rabindranath Tagore as a painter, Indian Perspective vol-24, No-2, 2010

Seema Rani, A Critical Study of Art and Thought of Rabindranath Tagore with special reference to its influence on contemporary painters. Aligarh Muslim University 2008 Unpublished Theses Pp-121
©Dr. Nachiketa Bandyopadhyay 
Photos from the Internet
#PaintingOfTagore #Tagore #TibuteToTagore #AvantGardeMovement #KalaBhawan #ColonialIndiaAndArt #ArtAndTagore #TributeToTagore #DifferentTruths