Reading Time:
3
minutes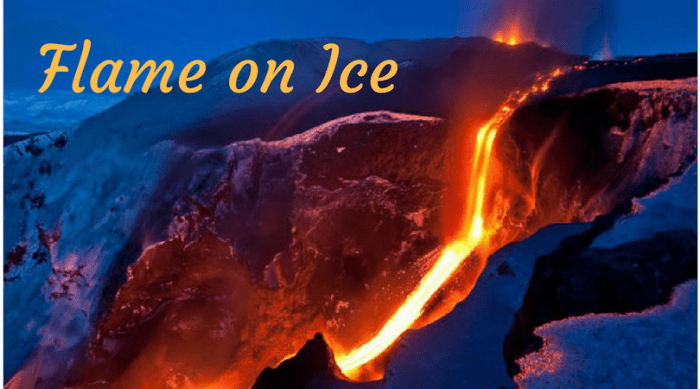 Mahima interacts with Neeraj Gupta and tells us the virtues of public art, in the weekly column, exclusively for Different Truths.
All those who have visited the Lodhi Gardens, India Habitat Centre, India International Centre, and lately even in the subways at Connaught Place plus other places in New Delhi, you all have admired sculptures at the public display by this world-renowned artist. But most of you neither know him, not know this kind of art form which is called public art.
Neeraj Gupta, the founder of Incredible Sculptures is busy promoting this art form these days. He is the president of Delhi Art Society and the chief organiser of "Sculpt for Delhi: A Concept Exhibition for Public Art," an exhibition at the India International Centre. 
It is an interesting mix of distinctive concept-based sculptures by 12 eminent sculptors from all over India. And many are even inspired by the traditions of Ajanta and Ellora caves.
What is public art? 
Public art may include any art which is exhibited in a public space including publicly accessible buildings. But it is not as simple as it sounds!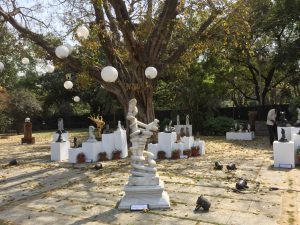 Neeraj explains, "Planting a particular art form at a place not only depends on the judging the relationship between the audience and the art form but also the location where it is being established. Each work has to be located what is the art saying and to whom, after asking whether the audience will be able to gauge the message since at open public places except the caption board there is nothing more to explain the art!"
So why choose the comforts of a gallery where you get buyers? Isn't that what artists look for? After so much effort put into each sculpture, won't you be looking at money? Aren't all artists looking for money, since that's their only bread and butter?
Neeraj responds with a smile, "Art has a deep impact on common man, it takes away the stress of the mundane life and also motivates you to explore the inner you. Everything cannot be done for money always, one has to reach out to those who need to embrace life and its beauty beyond the eyes of the beholder. Also, public art is the need of the hour to promote budding artists who cannot always afford the fees for displaying their amazing work at art galleries. We need to go much beyond."
Indeed a different truth, in a world that is driven by money and wants above needs and passion. 
So whether it is Madhab Das, with his work 'Revolution', curated in cast iron brings out the wonderful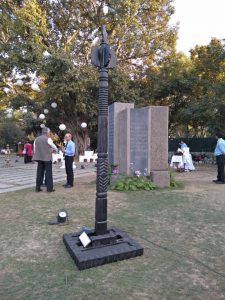 crimson hues accentuates the cycle of life wherein the human form elevates itself from the dark shadows of structural tensions to rise in victory. Or be it Rakesh K. Baderia's 'It's Me, Med' in Rosewood and Steel is a thought-provoking piece wherein the reflective and rough silhouette brings in a plethora of ideations for the one who appreciates.  
For that matter, Rambali Prajapat's exhibition of his 'Untitled' in acrylic colour on fiber and 'My Dreams' in bronze are breathtaking renditions of creativity.
Each of the above art forms and many others is an excellent array of ideas, that kindles a society to be a holistic one – united by one love – love for art.
Neeraj and other artists whose work is at display here believe, "Art in the untamed environment of public displays, is what keeps the world together, fosters unity, invigorates imagination and brings together the creative conscience of people."
We agree.
©Mahima Sharma
Photos sourced from the author
#Exhibition #Art #ArtReview #NeerajGupta #Delhi #FlameOnIce #DifferentTruths