Reading Time:
3
minutes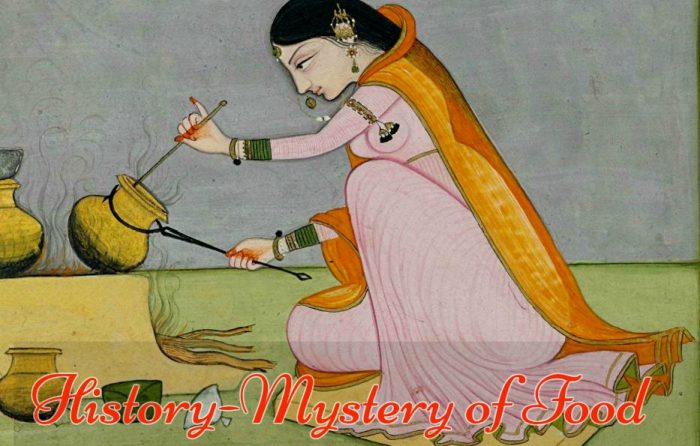 Lily tells us about the four-day harvest festival, dedicated to the sun, in Tamil Nadu. It's also celebrated in other states in South India. It means 'spilling over' of rice cooked in a pot, signifying bounty. Read more about it, in the weekly column, exclusively for Different Truths.
The translation of Pongal is 'spilling over'. It refers to the tradition of cooking rice in a pot till it starts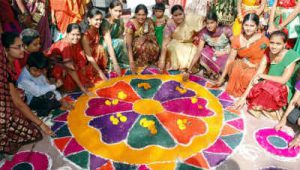 overflowing. The name of the dish Pongal is also the name of the festival celebrated mainly in Tamil Nadu, Puducherry, Andhra Pradesh, Telangana, and Karnataka. It is a harvest festival which marks the sun's auspicious northward journey towards the equinox known asUttarayan. The festival is celebrated over four days and coincides with Lohri and Makar Sankranti in the North andBhogali Bihu in Assam, the Northeast of India.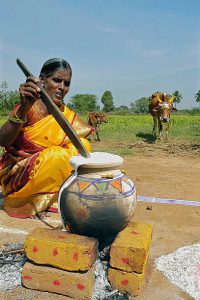 Besides the spilling over of rice, the other popular traditions associated with Pongal are the drawing of Rangolis (Kolam) on the ground with coloured powder and the cooking of a Tamil dish called Pongal which is prepared with rice boiled with milk and jaggery.
The first day beginning on 13th January is celebrated in honour of Lord Indra, the god of rains, who brings prosperity to the land. It is known as Bhogi Pongal. The second day is dedicated to the Sun God and known as Surya Pongal. The third day is dedicated to the cattle and the games of Jallikattu are organised in these parts. This day is Mattu Pongal. The fourth and final day is Kaanum Pongal also known as Thiruvalluvar day.
This thanksgiving festival is also the time for weddings as harvesting of rice, other cereals, sugarcane, and turmeric takes place now.
I talk today about the second day of Thai Pongal where milk is boiled in an earthen pot outside under the sun. When it starts boiling over new, freshly harvested rice is added to the pot. A conch called sanggu is blown into and there is shouting of"Pongal Pongal!"
Different varieties of rice-based dishes are eaten with enthusiasm. Ven Pongal is made with rice mixed with moong lentils, ghee, cashew nuts, raisins and mild spices. The sweet version called Sakkarai Pongal is made with Jaggery.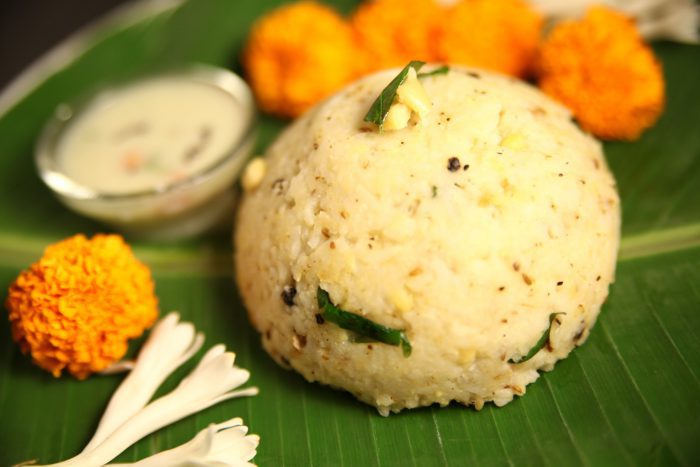 Ven Pongal, to my mind, is a southern version of moong dal khichadi. The tempering is different though. After the rice and dal mixture has been cooked till well mashed in the cooker temper it.  Heat ghee, cumin seeds, cashew nuts, chopped ginger, asafoetida, curry leaves, crushed peppercorns and sauté it. Add to the rice and lentil or dal mixture.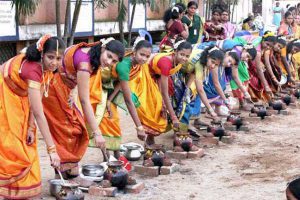 Happy Pongal you all. Namaskaram! 
©Lily Swarn
Photos from the Internet
#Pongal #SouthIndia #Festivity #FoodAndFestivity #Shankranti #IndianFestivalAndFood #HistoryAndMystryOfFood #Rice #SpecialRiceDish #HarvestFestival #FestivalsOfIndia #DifferentTruths