Reading Time:
11
minutes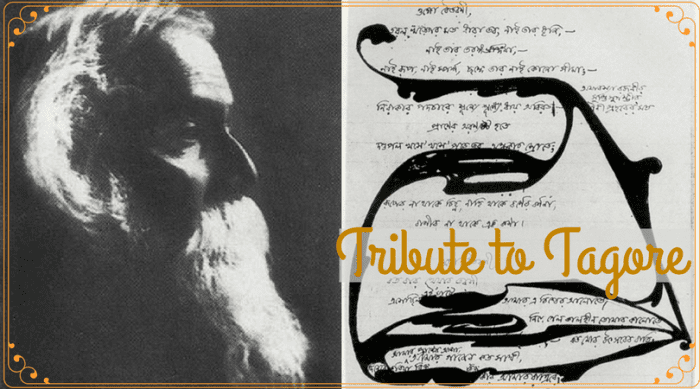 Thirteen poets with as many poems, from three countries, pay their homages to Tagore, in verse, as Special Feature, exclusively for Different Truths. 
#1. twenty-eight line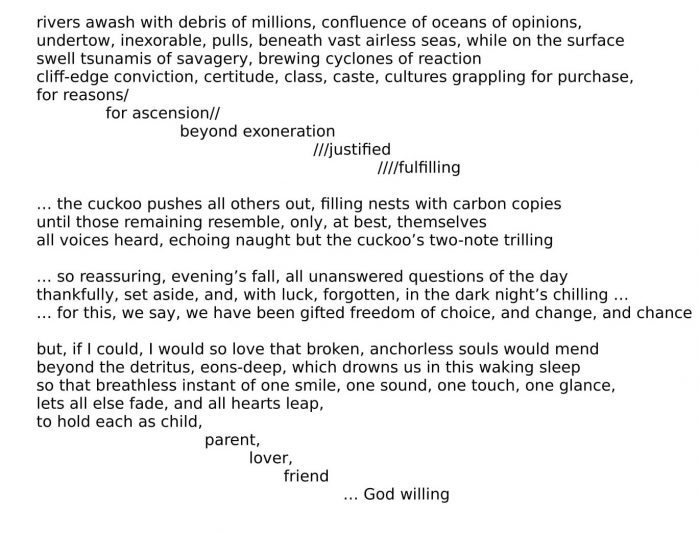 ©Michele Baron
The US, currently Kyrgyzstan
#2. Birth of an Icon
The sun baked Earth,
On receiving first rain,
Sweats out fragrance of moist mud,
Trace of Rajanigandha
Gently diffuses into the pleasant breeze
Seducing the woman entangled in her lover's arms.
A creator was born.
A stream of poetry rose into a rhythm,
Strokes of ochre and crimson caressed the canvas,
A symphony of music predisposed under the blue canopy
He was born.
A mind without fear,
A head held high
Proud of his nation,
The unfolding of verses of Gitanjali,
A poet was born.
Thoughts riveted wild into the pathless trails
Amidst a forest of creations
Caressed canvases, Caressed thoughts, Inkling of music
A whole of it, meticulously fixed in a little brain
Poetry, prose, colours and tunes
A union of art and communion of a world with India
Visva Bharati was born
A language he transformed from traditional to colloquial
Conceiving and creating on the banks of river Padma,
Riveting thoughts fused into the channel of Ganga,
Apathy knew no reason to come alive
His act on ink and colours blew a tidal rise
A pride of Nation was born.
©Sujata Patnaik
Nomad from Odisha, India
#3. Admiration
Oh! My poet, I admire you.
You have written beautifully about everything in view.
You have written about every season.
We quote you for every reason.
You have written about life.
You have written to end all strife.
How wonderfully you have expressed every emotion.
Only your compositions can give us so much motivation.
How deeply human nature you understood.
Penned descriptions of seas, mountains and woods.
How majestically you have rewritten folklore.
We salute you our poet, Gurudev Tagore.
You with your songs and poems have flown the white dove.
You with your sublime thoughts have taught us how to love.
© Dr Paramita Mukherjee Mullick
Mumbai, India
#4. At that Abode of Peace*
When that hour came slow creeping
With dancing shadows and Baul singers making
The day's going away with a sense of enchantment adored
I looked at the beauty of the country as it poured
All around me, serene and quiet
I got drenched in that fading light
And felt how for ages the showtime went on
And found how for ages there had been that song
Afloat in the country's air,
I found myself bereft of all cares
And merged with the scene
When that hour came slow creeping.
( *On a visit to Kopai)
©Moinak Dutta
Kolkata, India
# 5. Tagore: O Gurudev!
O Gurudev!
Bard of Bengal
Not merely, a bard
But the soul of Bengal
The stalwart of the Bengal Renaissance
A contemporary thinker
Way ahead of the times
You gave us our national anthem
As also 'Amar Shonar Bangla' to Bangladesh.
Your visionary eyes
Had a lust for life
As you composed your first poem at age six
And published your first book at age sixteen.
O Gurudev!
The recipient of the Nobel prize
Your regal and legendary persona
Delights and inspires us every day.
'Geetanjali' your poetry offering to the world
Is seeped with a love, and wisdom of life.
O Gurudev!
You were a great traveller
Meeting luminaries of the world
Absorbing cultures and traditions
A true citizen of the world.
O Gurudev!
You were a man, young at heart
Taking to painting at the age of sixty.
You are truly an Indian phenomenon from Bengal
And I offer this poem as a humble tribute to you.
©Aabha Vatsa
Faridabad, India
#6. A Ray of Inspiration
A ray of inspiration,
You to my heart illuminate
And with a spark of creation
Does my heart jubilate?
In the lone night, dark all around
The creation lightens my heart
With devotion profound
To your poetry and art.
Every moment in your sense
You felt the presence of Supreme Soul
And kept on irrigating the barrenness
Taking firmly the only goal;
The songs of your greatness
For eternity will echo, O Tagore,
Enlightening our earth
I am sure.
©Alok Mishra
Sitapur, India
#7. An Ode to the Bard
Once upon a time in the land of the Royal Bengal Tiger,
Was born a Bard
So brave and bold,
His eyes reflected the fire of his soul
He learnt to speak at a tender age,
Through ink and pen
Entwining both pain and wit with ink,
Like a creeper on a casuarina tree
This Bard knew not what it was to live away from books,
So like a soulmate lived he with them.
He travelled the world and fought for Freedom,
Carrying voices of many unheard along
His salt and pepper hair contained locks of wisdom,
The world knew not of,
A treasure cherished until today
His words dipped in a multitude of emotions,
Were etched on paper that wouldn't easily crumble
When he picked up the brush,
The canvas burst into colours
From a writer unravelled an evocative artist
The one the world would remember
The one who would be called, The Bard.
©Sehar Siddiqui (Zulekha)
Pune, India
#8. Gitanjali: Song No 35* at Present Times – A Parody
Where Independence Day is celebrated
Behind bolted doors, for red alert
And bomb scares dominate the day.
Where knowledge is obtained after
Colossal donations by the rich
And the nation has been fragmented
Into minuscule states, where the majority
Strive to crush the minority.
Where reason, polluted like our rivers
Is reduced to a trickling dirt water drain.
Where the mind is led forward by avarice
And corruption has become a way of life.
Where criminals have become leaders
And thoughts and acts have narrowed
Down for selfish gains.
Into that haven for scamsters
Our country has awakened.
(*Where the mind is without fear and the head held high)
©Amrinder Bajaj
New Delhi, India
#9. The Magnificent One
On a torrid summer day, aeons ago,
You stepped upon this beautiful earth.
You were named akin to the resplendent Sun,
That dazzles the world with fiery brilliance.
Exquisitely beautiful like the ancient Apollo,
Of regal bearing and majestic demeanour;
You set many hearts aflutter, conquered others
With your love, grace, infinite compassion.
Wandering in a realm of fantasy, unleashing
Your imagination, emotions by the magic wand,
That you wielded, you conjured numerous figures,
Of myriad hues, shapes and contours.
Like the Sun bridging the East & West,
You invoked peace, amity, equality,
And brotherhood of mankind.
To you all faiths were identical. Upanishad's
Purusham Mahantam, Buddha Tathagata,
Or Christ the Anointed One. Your Cosmos is
Engulfed by waves of bliss. In quest of liberation,
You touch the skies, the earth beneath your feet.
An embodiment of harmony, the Mighty One
Who trod the worldly stage like a Colossus
Glory Be, Victory to Thee.
©Ruchira Adhikari Ghosh
New Delhi, India
#10. Translation of Hungry Stones: Relocating Fantasy
Waters of Susta
at Bariah, beckon
a rapturous delight
incredible lust hovers
crystal chandeliers, emblems of
death at bay
Meher Ali, madcap
the Nizam's cotton collector
survives death's cold kiss.
©Deeya Bhattacharya
Kolkata, India
#11. Haven of Peace
What could I ever gather not before bundled
By winds of four corners, now stars in a galaxy?
What is left for me to quill already etched
By songbirds that picked up tunes in passing
Where a bard sang of a world sans boundaries as stray birds soar fearless?
What fallen leaves of verdant trees
of foliage rich with poems that shed,
Showing lifeline veins sketched on "peepal" palms of wisdom,
Could I ever imagine to pen holding a lamp to the sun,
Where I can only be a silhouette
merging with a million shadows,
That has sung the glory of His glory?
What could I ever send up as prayers already offered to the Almighty
That he has strewn in night skies
dazzling with gems of his thoughts
Me a humble soul bearing a name of a handful of song offerings?
All I could do is walk his path fragrant word flowers
Gingerly avoiding trampling over petals of songs strewn along the way
Till I reach a haven of peace where bards congregate reliving chapters of a son of the soil immortalised
Under a canopy of hymns of Him
In the sacred eastern land where flows the perennial river of existence.
What could I ever eulogize in a firmament where he now sits,
Beside divinity, I cannot begin to fathom?
For there he watches ever youthful
among sages,
Smiling at my name that endlessly tries to reach His sagacious feet
That I so adore.
©Geethanjali Dilip
Salem, India
#12. The Colds of Love
(The one who was Tagore)
Through the cold winters, you walk
My friend, through the flames, the storms and the
I flash with your loneliness
With the sand shattered by my ships,
Increases the night and drizzle glided geranium
Moon on the shore of search, petrified
And mute near the white walls awaits us
With the perishing shadows, with the southern fugitive
Let's get away from the endless plain
Where we crashed over the expanse
The wilderness of our letters, when we melting
In the stufișurile of the eyes of the thunder
The rebels of life and the coldness of love.
©Trandafir Sîmpetru
Făurei-Braila, Romania
#13. Gurudev
Rabindranath Tagore!
Thakur…
Gurudev!
The man with that flowy beard,
Fluid robes and long hair,
Whose picture hung on the wall,
Whose books decorated the shelves in the hall,
Holding an important position in my parents' lives,
He always seemed to capture their hearts.
As a child, I would always wonder who he was!
The house reverberated with Rabindra Sangeet,
His songs, his music, his creations…
And as I grew, I too started falling in love
With this boy from Jorasanko…Robi,
The sage of Bolpur, the teacher of Shantiniketan,
The writer, poet, painter,
Playwright, essayist and composer,
Whose Dak Ghar in my eyes still brings tears,
Performing on his songs- the Ritu Ranga and the Nritya Natya,
I travelled deep into the worlds of Charulata and Bhikareeni,
Happily, I would playact Chandalika, Chitrangada and Shyama;
Pouring through Noshto Neer, Ghare Baire, Gora,
Raktakarabi, Bishorjon, Jogajog, Chhelebela,
Not to forget this Nobel Laureate's offering of songs…
Gitanjali!
The Jana Gana Mana and Aamaar Shonar Bangla,
Sung as anthems of two nations,
To be remembered forever, by generations,
This Bard of Bengal,
With an appeal international,
Is a gem precious,
My 'Kobi Guru',
I bow my head in obeisance!
©Madhumita Bhattacharjee Nayyar
Gurgaon, India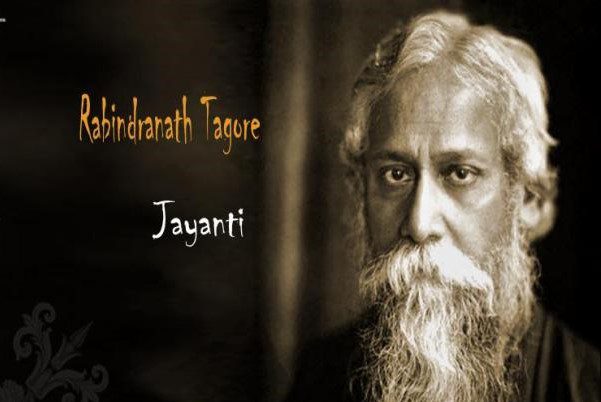 #TributeToTagore #Rabindrajanati #BirthAnniversaryOfTagore #CelebratingTagore #AnthologyOnTagore #Poems #Poets #Verses #TheBard #RabindranthTagore #DifferentTruths

Michele Baron : Michele Baron, world-traveller/Fulbright Scholar presently living in Kyrgyzstan, published A Modest Menu: Poverty, Hunger and Food Security, in Poetry and Prose, in 2015. A World Bank/Urgent Evoke-2010 top-ten-finalist, she develops outreach projects, writes poetry, prose, and non-fiction, is an active musician, painter, artist and "full-time" mother of three school-aged children. She has a self-illustrated book The Dreaming Rugs awaiting publication.

Sujata Patnaik : She is known to people as a bubbly, creative and a treasure chest of knowledge. She is a thinker, voracious reader, writer in making, artist in making, above all an explorer of life itself. The funniest part of her is that she gets curious about everything. She is a native of Odisha but a constant traveller.

Dr. Paramita Mukherjee Mullick : Dr Paramita is a scientist with a doctorate in Genetic Toxicology, an educationist by profession, associated with NABET, GoI organisation, helping in the quality management of schools all over India. An author and poet by passion, she has published four books. She has had numerous book events around the world. Presently a series of competitions of her poems are being held in some schools in Mumbai, where she lives with her husband and daughter.

Moinak Dutta : Born in September 1977 to an immigrant family, Moinak Dutta has been writing poems and stories from school days. His first published poem appeared in The Statesman, in 1999. Since then many of his poems and stories have been published in national and international anthologies and magazines. He wrote book reviews, including one on Upanishads. His two fictions are 'Pestilence' (2009) and "[email protected]" (2014). He blogs regularly and is interested in photography, films and music.

Aabha Vatsa : Aabha Vatsa is a Poet, Author, President "Asian Literary society" an ex-blogger and an ex-teacher. She has also contributed several poems in national and international anthologies. Her poems have also been published in several national and international webzines and websites. She has been awarded for her writings. she believes in the power of the written word. Her life mantra is Karma.

Alok Mishra : Born in India in 1981, an award-winning poet, Alok Mishra has been writing poems since a very young age. He is a teacher by profession. He loves to write poems replete with divinity and romance.

Sehar Siddiqi : Sehar is a communication skill trainer, she has good experience in writing on various issues. She is a blogger, book writer and enthusiastic traveller. A native of Allahabad, she believes in experiencing the small things of life in a big way. Sehar likes to work in groups and learn new things. Her motto is to enjoy life in small packets.

Dr. Amrinder Kaur Bajaj : Dr Amrinder Kaur Bajaj is a practicing gynaecologist and the HOD Obs & Gynae at MAX Hospital Pitampura, Delhi. Writing is a passion that has led to the publication of two wellness books, a book of poems, a joke book, and a memoir based on her association with the noted Indian author and columnist Khushwant Singh. She regularly writes columns, articles, travelogues, and short stories for magazines and newspapers and has contributed chapters to medical textbooks.

Ruchira Adhikari Ghosh : Born in Guwahati Assam, Ruchira grew up in Delhi and Punjab. A product of Sacred Heart Convent, Ludhiana, she holds a Master's degree in English Literature from Punjab University, Chandigarh. Armed with a P.G diploma in journalism in Journalism, she has been a pen-pusher for nearly 25 years. Her chequered career encompasses print, web, as well as television. She has metamorphosed as a feature writer, her forte being women's issues, food, travel and literature.

Deeya Bhattacharya : Born at Durgapur, West Bengal, Deeya Bhattacharya- a PG in English Literature and a Graduate in Education from the University of Burdwan. Her poems and articles have appeared in several National and International journals, websites, E-zine, besides several anthologies. Member of Poets International, She has read her poetry at quite a few fests. She teaches English and Poetry at a State Government High School.

Geethanjali Dilip : Geethanjali Dilip celebrates life through her soul's expression in poetry. Her first published anthology is 'Between Moms and Sons' co-authored with Aakash Sagar. She contributes poems to many online pages and communities on Facebook. Her pages on Facebook are Alcove ATMA and Geethatmaa. She heads Zone Francofone, a French Coaching/ Teaching center at Salem, India.

Trandafir Sîmpetru : Trandafir Sîmpetru, born April 19, 1962, in Jirlâu commune, Brăila County, Romania. He is a poet, who has received several international awards.

Madhumita Bhattacharjee Nayyar : Madhumita Bhattacharjee Nayyar writes in Hindi and English. A poet, blogger, life-skill counsellor, healer, a social commentator, she works with women and children. She started her career with the media, moving on to the perfumes and cosmetics sector. She wrote and edited for the MEA, Kailash Mansarovar Yatra, and various other Universities.Her works have been published in various national and international magazines, newspapers, web magazines, journals, anthologies. She is an avid animal lover too.