Reading Time:
4
minutes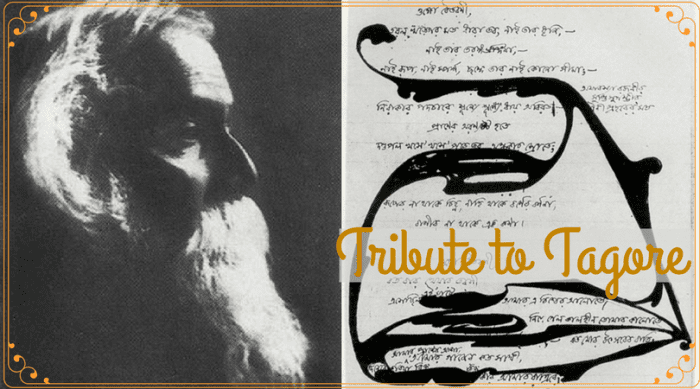 Sudhi Ranjan pays his tribute to Tagore, tells us about the Poet-Painter's concept of art and how the Alpana art of Santiniketan, influenced his work, as Special Feature. A Different Truths exclusive. 
Tagore has been immortalised not only by his poetry but also by his paintings and his great contribution to Indian Art. His early life in Jorasanko was spent in an atmosphere of religion and arts, principally literature, music, and painting. But he started experimenting with paintings and art at a late age. 
In 1924, while writing, Purabi, he started doodling on his manuscript. He had the habit of crossing out and covering the rejected lines and phrases of his poetry with various kinds of scribbled ink lines. At a certain stage, he noticed that these – taken individually or together – had a special rhythmic presence, and a little more doodling transformed some into flowers, others into birds or strange astonishing creatures seemingly with a life and body of their own.  
His art was a search for a newer form of expression; he was trying to express through his painting, which he couldn't in his verses. If he was seeking peace and enlightenment in his songs, he seemed to explore darkness and mystery in his drawings. In his own words: "The world speaks to me in colours, my soul answers in music". If he sought peace and enlightenment in his songs, he tried to explore darkness and mystery in his drawings. 
In spring 1930, when on a tour to France, Tagore was advised, by some art critics, to hold an exhibition in Paris. He held the first public and international exhibition of his paintings in Paris in May 1930. Through a series of the exhibition in Paris, London, Berlin, Moscow and New York, the world discovered the poet Rabindranath as an important modern painter. Subsequently, his works continued to be exhibited both in India and internationally. 
Tagore, in his article, My Pictures, explains his paintings: "The Universe has only its language of gesture; it talks in the voice of pictures and dance. Every object in this world proclaims in the dumb signal of lines and colours, the fact that it is not a mere logical abstraction or a mere thing of use, but is unique in it, and carries the miracle of its existence. In a picture, the artist creates the language of undoubted reality, and we are satisfied that we can see." 
At Visva Bharati he opened the art wing called, 'Kala Bhavan'. He invited the like-minded painter Nandalal Bose to run the wing with a free hand, thus encouraging the evolution of an original vision,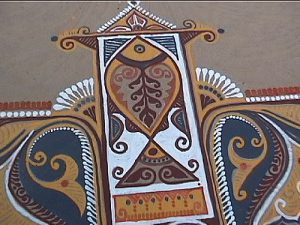 reflecting the intuition and expression of the students, unleashed from the bounds of tradition and the stifling rigours of conventional training. The opening of the 'Kala Bhavan' proved to be a landmark in the history of the evolution of Indian Art.  
After completing graduation in Fine Art, I was fortunate to be awarded to study at Kala Bhavana, Santiniketan. There the 'Alpona' art of Santiniketan influenced me deeply. The various aspects of nature – the silhouetted trees, the curve lines of creepers, the flowers and foliage always become my motifs of Alpona. My ideal Master has been Nandalal Bose. The seasonal songs of Rabindranath Tagore always inspire me to do paintings based on Alpona, especially those songs which have both pictorial and ornamental possibilities. 
As I remember Tagore's words: "People often ask me about the meaning of my pictures. I remain silent even as my pictures are. It is for them to express and not to explain", I humbly try to convey the deep-rooted message of Rabindra Sangeet to the viewers through my paintings. 
Tagore's song: "Far beyond the mind and body, I tend to lose myself, Among the strains of melody, I tend to rise myself" is the inspiration behind this painting.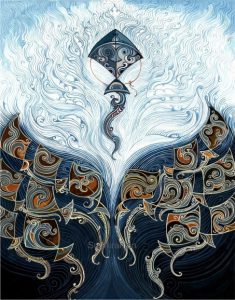 I have tried to convey the famous song for the Plantation day "Oh great souls, fly the banner to conquer the deserts……Oh beautiful soul, encompass with flowers and greeneries…….Come oh the playmate of winds and enthrall the blue sky," in following one.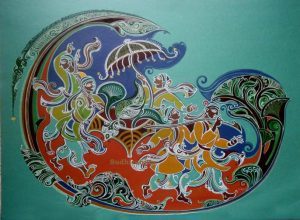 Another painting of mine reminds of a song depicting Autumn with its sparkling white clouds sailing in the clear blue sky in: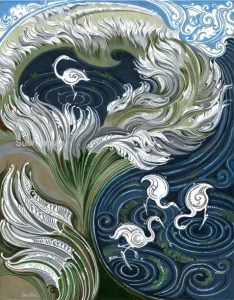 ©Sudhi Ranjan Mukherjee
Paintings by the author and from the Internet
#PaintingAndTagore #Tagore #Painting #Shantiniketan #KalaBhawan #ArtInShantiniketan #TagoreAndArt #TributeToTagore #DifferenTruths